Skip to Content
Steps To Picking The Right Plumber In Birmingham, AL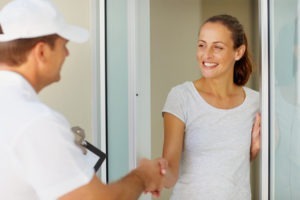 Picking a Good Plumber in Birmingham
Most often, we don't look for a plumber until a plumbing emergency arises. If your plumbing emergency arises after normal business hours, it is difficult to check with referral services or consumer watchdog companies such as the Better Business Bureau. Try to get referrals for plumbers in Birmingham from friends, family, and co-workers. Ask if the plumbing contractor charged reasonable prices for their services or if they were able to give you an estimate before the work was done.
Unfortunately for the consumer, plumbing contractors usually cannot give estimates as other home contractors. Most of the time, it's impossible to tell what is causing your plumbing problem until the plumber investigates the situation. Sometimes they have to dig up sewer lines to find the problem and you will pay an hourly rate for any digging.
You can ask potential plumbers what they charge per hour for services such as digging, etc. A good plumber can usually tell you what they will charge for some services, such as running a snake through a plumbing or disposal line based on the number of feet. Ask potential plumbers for their state license numbers and check to see if they are insured or bonded. The best plumbers will have a good working knowledge of local plumbing and building codes.
When it comes to selecting one plumber out of several contenders for your plumbing work, picking the plumber with the lowest prices isn't always the best option. Some plumbers start at a low price and then will tack on fees as more tasks appear that need to be done on the job. Also, ask potential plumbing candidates for a list of previous customers. A good plumber will provide a list of references and then call them! Ask them about the quality of the plumber's work and if the company's prices were reasonable.
Lastly, look for a company that has been in business for many years in Birmingham. Bad plumbers don't tend to stay in business in one place for very long. Using some common sense and following these tips, you can find the right plumber for your needs.
If you are looking for a reliable plumber in the Birmingham area, give Latta Plumbing a call today at 205-631-6445.