Skip to Content
Is Your Water Really Supposed to Look That Way?
Discolored Water: Causes, Fixes & Prevention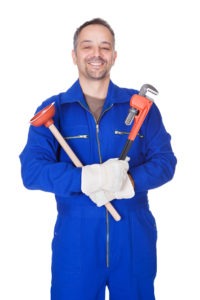 Discolored water can be a problem in a home. It can lead to dingy clothes, stained appliances, and can even make people sick. For homes that suffer from discolored water, there are options for them. Many people want their water to be as clean as it can be even if they are not living in the home because they do not want discolored water to interfere with the sale of a home. A professional plumber can rectify the situation.
What Are The Causes?
Typically, minerals and particles that are suspended in the water lead to water discoloration. The most common cause that we, as plumbing professions have found, of water discoloration is iron oxide or rust, which becomes suspended in the water. This will usually give the water a yellow, or brown, the color which is unappealing to people. Sometimes an odor also accompanies the discoloration. Many homeowners compare the scent to that of rotten eggs. Not only is water discoloration an aesthetic problem, but it can also be a scent-based problem.
How Can It Be Fixed?
There are several methods that we can use to clear up discolored water. The most typical solution is to get a water softener. Many water softeners also filtrate the water which will, very often, remove the unwanted particles out of the water. If the water becomes supersaturated with particles then a water softener alone may not solve the problem. We can install a reverse osmosis unit in your system which will remove even the most concentrated amount of minerals that are suspended in a homeowner's water.
How Do I Prevent It?
There isn't an exact way to prevent discolored water from a well unless a homeowner has the water tested prior to the well being dug. After the well is dug we can plumb all of the necessary piping from the well to the holding talk, filtration unit, and even water softener. We can make sure that a home will have clean water coming out of the tap. We make sure that our customers are satisfied with the quality of their water, and we make sure that we complete the job correctly the first time. It is this level of detail that has made our customers pick up time and time again when it comes to making sure that they have the cleanest water that they can possibly have.
Bring in a plumber into your Birmingham home to look over your plumbing system and make the necessary corrections. Call Latta Plumbing at 205-631-6445 today!