Skip to Content
Move Your Kitchen Into The 21st Century!
Why Do I Need a Plumber to Remodel My Kitchen?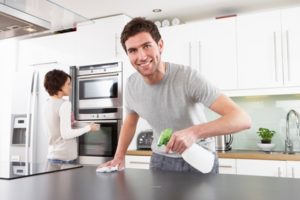 A kitchen remodel is an exciting investment. There is not much like an upgraded kitchen with all the bells and whistles to add value to your home and joy to your meals. So do you need a plumber for a kitchen to remodel? Absolutely you do. A great kitchen remodel takes plumbing issues into consideration. Here are just a few of the reasons you will need a plumber.
Adjusting the height of kitchen counters will require that the pipes for the sink be replaced. New building codes may also require that you replace existing pipes with PVC or copper pipes too. If you are going to go through the expense of remodeling your kitchen, you should have the counters adjusted so that the people who work in the kitchen are comfortable. It is not a difficult job to raise or lower the counters, but it is important and you will need a plumber to help you do that.
Adding New Appliances
An awesome new kitchen remodel is not just about slapping some new cabinets and slathering on some paint. It is about designing a kitchen to meet your needs. Many times this includes Adding in an On-demand hot water heater so that your home becomes greener by not wasting water. Many kitchens also benefit from an On-demand hot water tap. It is a luxury just to go to the kitchen and dispense water that is hot enough to make hot chocolate or tea without having to boil the water on the stove. For these chores, you are going to need a plumber.
Moving Water Heaters
During some kitchen remodels, the hot water heater is moved out of the kitchen and located elsewhere. Moving or installing an existing hot water heater requires a plumber, especially if moving gas lines are involved. A plumber knows how to run pipe for gas and water that meet code and a plumber will make sure that it is safely installed.
Moving Sinks and Adding Filtration
A water filtration system is also handy and often a part of a kitchen remodeling. An under-counter filtration system adds value to your home and health to your family.
Many times people want to move the location of the sink or even add in a second sink for prep work. In older kitchens adding garbage disposal can be a big project, but rewarding too. All of these things add value to your house, but in order to get the best value and best quality, you will need a plumber.
Are you looking to turn your Birmingham kitchen into an exquisite space for culinary creations? Call Latta Plumbing at 205-631-6445 for the plumbing help you need to make this dream come true.