Skip to Content
Reasons To Hire A Plumber To Help You Renovate Your Bathroom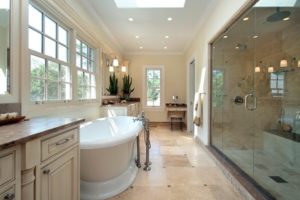 Thinking About Renovating Your Bathroom?
Sometimes, people are tempted into tackling home projects by themselves. However, when it comes to renovating a bathroom, you definitely need to look into some professional assistance. What are the reasons why it is not wise to go it alone?
First of all, the plumbing is very sensitive. If you mess up one of the pipes, you could end up with a huge flood in your bathroom. Since you do not want to have these issues, you need to hire a plumber to take care of them. Even if you do not have a pipe that bursts, you might put it in the wrong place. When the plumbing is not done properly, the bathroom simply is not going to work.
You also want to get the bigger picture idea before you start to put the plumbing in. For example, let's say that you have some particular fixtures and structures that you want. These wants are fairly commonplace for people who are working on putting together their own bathrooms; however, you might not select the proper places for these items to go. As a result, they could interrupt the plumbing. When you try to put the bathroom together, you might find that you do not have the necessary space for the plumbing.
As you can see, trying to do the plumbing by yourself can be a waste of time. When you are finished with the project, you might find that you just need to start all over again. Being without a bathroom can be quite a pain. Even when you are staying somewhere else, you probably just want to get back into your home. Sure, you might have another bathroom, but why delay the renovation of this one for unnecessary reasons?
If you have to redo all of the work after attempting it for the first time, you are probably going to spend a lot of money as well. In fact, you may even have to hire a plumber to fix your mistakes. Instead of going down this confusing road, just hire a professional to do the work from the very beginning.
Looking to renovate the bathroom in your Birmingham home? Call Latta Plumbing at 205-631-6445 and schedule a service call today!