Skip to Content
What to Consider When Hiring a Plumber
What Do I Need to Look For When Hiring a Plumber?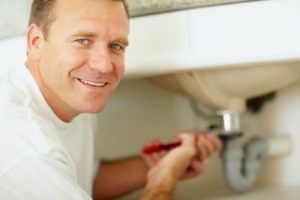 In almost everybody's life, the need for a plumber will occur at some point during homeownership. The plumbing in any home can be difficult to deal with and a qualified, professional plumber from our company can make quick work of the majority of problems and find a way to repair most plumbing issues for a low cost. One of our fully licensed and insured plumbing professionals will always look to work with the homeowner to find the plumbing solution that fits their budget and reduces disruption to a minimum. But, how does a property owner know they are dealing with a professional plumber they can trust?
Make sure the Plumber is Licensed
As with the majority of careers and trades in the 21st century, licensing from a state agency is important in showing a customer our plumbers are fully trained and qualified. The requirements of licensing, which should be available for a homeowner to view at all times, include the need for continuing education that makes sure all our plumbers are up to date on the latest plumbing technology and practices. Working with a licensed plumber is a good way of making sure that the person entering your home is fully qualified and capable of dealing with any problems or maintenance issues regarding your plumbing.
Insurance adds an Extra Layer of Security
Accidents and problems are rare with our fully trained, licensed and insured plumbers, but accidents and surprises do occasionally happen that can disrupt a homeowner for a short period of time. We make sure all our plumbers are insured to make sure that any problems that may be encountered can be put right in as short a period of time as possible. Ensuring our plumbers is a great way of providing peace of mind for our clients, plumbers and ourselves that any issues can be taken care of through the insurance all our plumbers carry.
Experience Counts in Plumbing
No matter what form of job an individual is completing having experience can make sure each and every individual knows what they are doing and has confidence in their abilities. Our plumbers are experienced in the majority of plumbing problems they encounter on a daily basis and have the skills to complete any maintenance or installation tasks required of them. Studies have shown that tasks completed by qualified and experienced plumbers have a longer lifespan than those tasks completed by a homeowner.
We want to make sure our Birmingham customers are happy, so leave the plumbing projects up to Latta Plumbing. Don't delay and call 205-631-6445 today!